ANTON produces high quality, high tolerance plasma cutting parts, compliant to customer specifications. All cut pieces are marked and fully traceable.
ANTON processes cobalt alloys, duplex and super duplex stainless steels, nickel alloys, stainless steels and titanium alloys.
ANTON utilizes two Koike Aronson Versagraph Millennium Series Plasma Cutting Systems (Model 3100) for all stainless steel plate and sheet plasma cutting. The system features Hypertherm's HPR800XD HyPerformance Plasma technology, which enables powerful precision cutting for superior quality and consistency up to 6.25-inch-thick stainless steel plate. The two machines operating on one shared rail system allows for a cutting envelope of 10 feet wide X 65 feet long. ANTON's Koike Aronson Versagraph Millennium Series cutting solution provides unmatched speed, accuracy, versatility and durability in a plasma cutting system.
Production benefits include optimum cut quality, less dross (cleaner cut edges), less kerf loss (narrow cut), and a smaller heat-affected zone (due to faster cut speeds). Additionally, the system yields a significantly reduced bevel angle on the cut edge (1° to 3° bevel angle compared to 7° to 10° with a standard plasma system).
The plasma cutting machines at ANTON are multi-gas capable and utilize highly advanced plasma technology. They are equipped with state of the art Yasukawa Sigma-V motion drives for excellent positioning accuracy. Also, they are equipped with ArcGlide Torch Height Control, which provides automatic torch height control to enable optimal cut quality.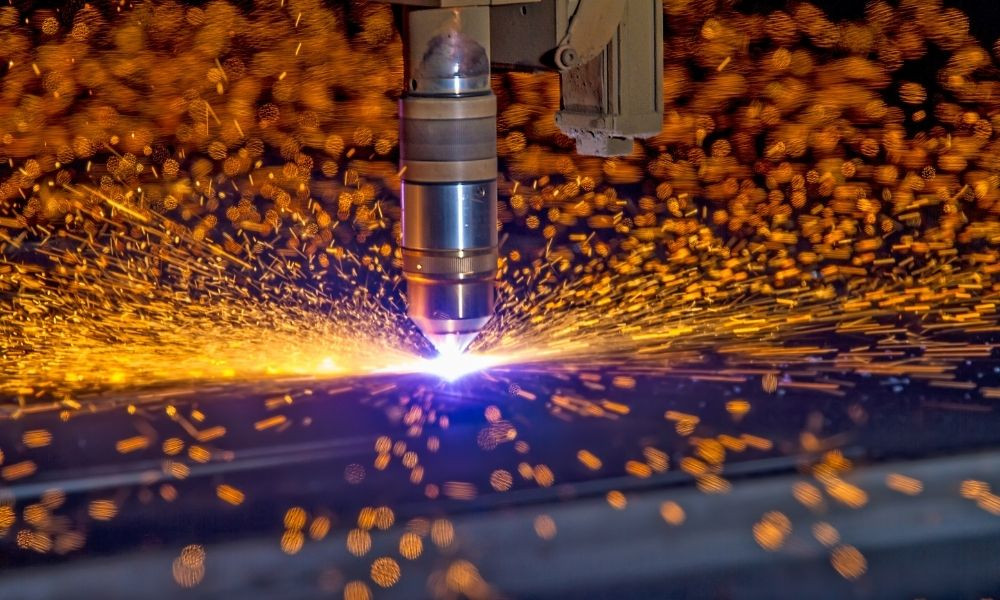 Processing Questions to Consider:
· Do you need to add a material allowance for secondary processing?
· Do standard tolerances meet your requirements?
· Does the material need to be marked with part numbers, job numbers, purchase orders, etc?
· Are there special packing or handling requirements?